Haco storage box
Regular price
$129.99 USD
Regular price
$73.89 USD
Sale price
$129.99 USD
Unit price
per
Sale
Sold out
Features:
Haco storage box
Haco, is the Japanese pronunciation of "Hachiko (box, that is, a small box)".
The box lives up to its name, haco is light, concise, and elegant. Inheriting the classic craftsmanship of the 18th century Shakers, it is handcrafted. Using cherry wood as the raw material, the wood grain is delicate and the color is soft. Flexible use of internal partitions for more versatility.
Craftsmanship:

Originating from the classic production process of Shake in the 18th century, the wood chips are first boiled and then bent and shaped while hot. The handle part cleverly hides the interface of the wood chips, and the absence of an interface makes the whole design look more complete and refined. The bottom plate does not use adhesives, but is connected by wooden dowels, which are more structurally firm. Brass nails on the side of the box further increase the firmness between the handle and the body of the basket. Most of the processes need to be done by hand.
Size & material:

The North American FAS grade high-quality cherry wood is selected, with delicate wood grain and soft color; the solid wood production makes the wood grain of each haco storage box different. The surface has been carefully polished and painted with wood wax oil, which can be used safely.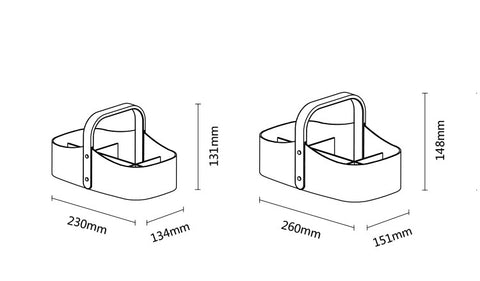 Share